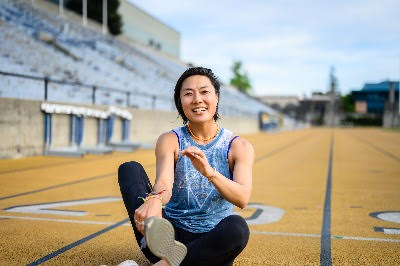 Author: Sue Noyes, Associate Director, Recreational Sports – Fitness Operations
We are all finding our way through these unprecedented times and staying active can be a challenge. Maintaining an exercise routine right now may seem more like a 'should' rather than a 'want to'. However, even a small amount of activity can make a huge difference to how well you think and feel. In fact, exercise is one of the most powerful tools we have for staying physically and mentally healthy. 
According to the American Academy of Sports Medicine the current recommendation for adults is to aim for at least 150 minutes of moderate intensity activity every week (or 75 minutes of vigorous intensity) with two sessions of strength building activities per week. That's about 30 minutes of movement, five times per week. It's also okay to break it up. Two 15-minute workouts or three 10-minute workouts can benefit you just as much. Include warm up and cool down time as part of your workout. 
Here are some tips to get you started or keep you going:
Keep Your Workouts Interesting. Try something new by checking out Berkeley Recreation & Wellbeing Online which offers lots of fun virtual fitness and wellness opportunities.  
Prioritize your workouts. People who put their fitness activities on the same calendar as their regular appointments tend to stick to their plan. Morning, noon or evening, find a time that works for you.
Make Activity an Easy Decision. Identify and minimize any friction points or potential barriers to being more active. Try placing your running shoes by your bed or the door to make it easy to get started.
Be specific in your goals. Set goals that are a priority for you and focus on concrete accomplishments such as "walk 30 minutes in the morning on Monday/Wednesday/Saturday." Make sure that your goals are reasonably attainable – small changes will reap big rewards.
Track Your Progress. Whether you use a FitBit or iPhone, or you write things down on paper, tracking your workouts can help you stay accountable as well as keep yourself motivated. 
Sit Less, Move More. Be creative and work extra movement into your daily routine whenever possible. 
Experience Nature. Take a break from your screens to reap the physical and mental health benefits of being outdoors in natural surroundings.