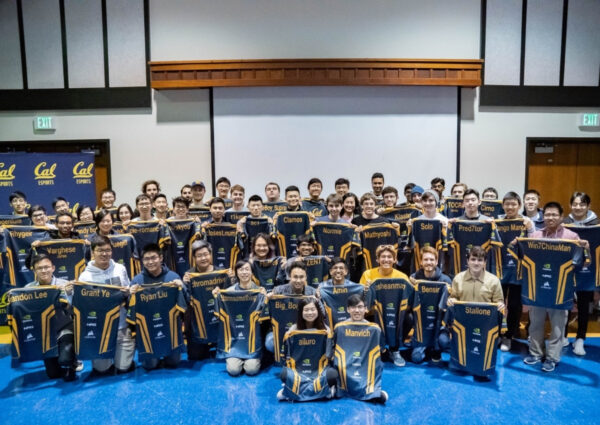 UC-wide competition is intended to boost student engagement, foster community
Berkeley, Calif., Nov. 23, 2020 – The esports programs at the University of California, Irvine, UCLA and UC Berkeley are partnering to pilot a UC Esports Initiative that will kick off with a holiday tournament for all nine UC undergraduate campuses.
Organizers planned the inaugural competition as a way to elevate esports across the UC system and boost student engagement at a time when instruction is mostly remote. It will take place Dec. 19 to 22 and encompass League of Legends, Overwatch, Valorant and community events. Prizes include a trophy for the winner and partial scholarships for each team.
Xfinity will serve as the title sponsor of the initiative, while CORSAIR will be the official peripheral partner, and MSI will be the official PC.
"This UC Esports Initiative aims to bring together UC students for some friendly competition to end the year on a positive note," said Mark Deppe, director of UCI's esports program and lead collaborator on the pilot tournament. "Long term, I could see this evolving into a season-long competition for our campuses."
"Our esports programs at UC Berkeley have provided an invaluable way for our students to connect and build community with one another during this unusual and challenging time," said Stephen C. Sutton, vice chancellor for student affairs at UC Berkeley. "We are thrilled to participate in the tournament and look forward to collaborating with UC Irvine and UCLA to make this programming even more accessible to the UC community at large."
"We are excited to share esports across the UC campuses and have an event like this to bring our communities closer," said Mick Deluca, UCLA's assistant vice chancellor of campus life. "It will provide a fun, competitive environment for students while also providing opportunities for them to learn and grow. There are so many positives we have discovered through our esports program, including student development; large, engaged student communities; skills development; and campus community involvement, to name a few."
The tournament will be streamed on a new UC esports Twitch channel, with UC Berkeley, UCLA and UCI splitting broadcast and streaming duties. The Twitch channel and all assets created will be jointly owned by the UC campuses. UC Berkeley will broadcast League of Legends matches, UCI will stream Overwatch matches, and UCLA will stream Valorant matches and the community event. All nine campuses are participating in the planning process.
"As a longtime supporter of the gaming community, Xfinity is thrilled to partner with the University of California to hold this unprecedented virtual esports tournament at a time when unity and a sense of community are so needed for students," said Mark Cruz, director of brand partnerships for Xfinity at Comcast. "Whether they're streaming NASCAR, the Olympics or the NFL, or relying on a gamer-grade internet connection for esports, Xfinity brings fans closer to the passions they love by delivering the fastest speeds on the nation's largest gig-speed network."
The concept for the event came out of an August meeting among esports directors at UCI, UC Berkeley and UCLA. Once the workload was determined, the planning began and student leaders at the remaining campuses joined in.
After a successful Summer Invitational, UCLA is heading the tournament design and created the Discord. UC Berkeley is leading the corporate relations efforts, and UCI is responsible for planning meetings, campus outreach and marketing. The universities hope to continue collaborating on additional programming in the future.
Those interested in watching should tune in to Twitch beginning at noon PST each day between Dec. 19 and 22.
"Esports are important to boost not only student morale and friendly competition, but also engagement and even research," said Willie Banks, vice chancellor for student affairs at UCI. "We are thrilled to have this opportunity to bring students together and end an untraditional fall quarter on a high note."
About UCI Esports
UCI is the first public university to create an official esports program, regarded as one of the best and most comprehensive in the world. With a successful computer game science major, a thriving gaming community and a history of elite competition, UCI was a natural place for esports to thrive. On Sept. 23, 2016, the UCI Esports Arena, powered by iBUYPOWER, opened.
About the University of California, Irvine
Founded in 1965, UCI is the youngest member of the prestigious Association of American Universities. The campus has produced three Nobel laureates and is known for its academic achievement, premier research, innovation and anteater mascot. Led by Chancellor Howard Gillman, UCI has more than 36,000 students and offers 222 degree programs. It's located in one of the world's safest and most economically vibrant communities and is Orange County's second-largest employer, contributing $5 billion annually to the local economy. For more on UCI, visit www.uci.edu.
Media access: Radio programs/stations may, for a fee, use an on-campus ISDN line to interview UCI faculty and experts, subject to availability and university approval. For more UCI news, visit news.uci.edu. Additional resources for journalists may be found at communications.uci.edu/for-journalists.
About UC Berkeley and Cal Esports
The University of California, Berkeley is the world's premier public university dedicated to excellence in teaching, research and public service. The University of California was chartered in 1868 and its flagship campus in Berkeley, on San Francisco Bay, now has more than 1,500 full-time and 500 part-time faculty members dispersed among more than 130 academic departments and more than 80 interdisciplinary research units.
Cal Esports includes more than 120 collegiate student-athletes on 20 competitive teams, who represent UC Berkeley at national and international competitions. In 2018, they opened the Cal Esports Community Center powered by NVIDIA. The center is home to a wide variety of active clubs and student groups on campus, from casual play to game design, that engage the gaming community.
About UCLA Esports
The UCLA Esports program, founded in 2018, includes more than 50 students athletes, nine separate teams, and an Esports Training Center to aid teams as they compete at the national and international level. The student-driven program is supported by administration and housed within UCLA Recreation, a division of Student Affairs' Campus Life. Full-time administrative staff and a student-led executive board supports students in professional development, education, competition and beyond. The Esports Training Center, which opened in February 2020, features state-of-the-art computers and technology sponsored by MSI, Razer, and DXRacer. The center will become a hub for student esports activity as well as professional development in esports broadcast and media production. Learn more about the UCLA esports program's play during the pandemic from articles at UCLA Newsroom and UCLA Magazine.
About CORSAIR
CORSAIR (NASDAQ:CRSR) is a leading global developer and manufacturer of high-performance gear and technology for gamers, content creators, and PC enthusiasts. From award-winning PC components and peripherals, to premium streaming equipment and smart ambient lighting, CORSAIR delivers a full ecosystem of products that work together to enable everyone, from casual gamers to committed professionals, to perform at their very best.
CORSAIR also includes subsidiary brands Elgato, which provides premium studio equipment and accessories for content creators, SCUF Gaming, which builds custom-designed controllers for competitive gamers, and ORIGIN PC, a builder of custom gaming and workstation desktop PCs and laptops.
About MSI
As a world leading gaming brand, MSI is the most trusted name in gaming and esports. We stand by our principles of breakthroughs in design, the pursuit of excellence, and technological innovation. Integrating gamers' most coveted extreme performance, realistic visuals, authentic sound, precise control, and smooth streaming functions into its gaming rigs, MSI pushes gaming performance beyond limits. For more information, please visit us.msi.com
Media Contacts:
UC Berkeley
Emily Viemeister
510-603-9543
emilyv@berkeley.edu
UCI
Sheri Ledbetter
949-230-8962
ledbetts@uci.edu
UCLA
Alison Hewitt
818-521-3175
ahewitt@stratcomm.ucla.edu