Event Start Date:October 1, 2023
Event End Date:October 31, 2023
Event Venue:Various Locations
Join Berkeley RecWell, University Health Services, and the School of Public Health in a month-long celebration of Exercise is Medicine on Campus (EIM-OC), showcasing programs and services from campus fitness, health and wellness specialists. EIM-OC is a global initiative committed to the belief that physical activity promotes optimal health and is integral in the prevention and treatment of many medical conditions.
EIM Classes
Offered all month (see schedule below or our Group Fitness page for full schedule).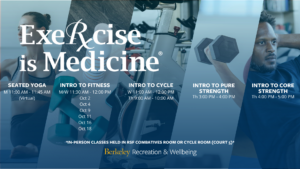 Inclusive Recreation Programs
Inclusive Recreation offers FREE classes and clinics that meet diverse fitness needs!
World Mental Health Day
Tues, October 10
RSF Combatives & Cycle Room (Court 5)
Participate in a Group Fitness class for World Mental Health Day! Find classes on our Group Fitness Schedule.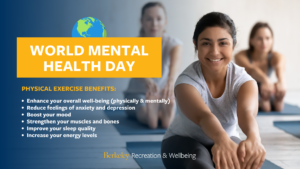 Dance It Out!
Every other Friday 11:00 AM – 12:00 PM
University Health Services, Tang Center
Dance it Out! is a safe place to explore our bodies and how they move. Join us for gentle stretches and guided exercises set to a curated playlist to de-stress your mind and body. Visit the UHS Exercise is Medicine page for more info.