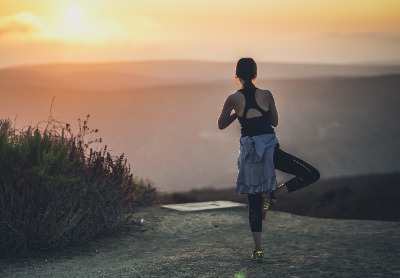 That's right, it's that time of year again! It's time to make our New Year's resolutions. And this year, we're going to make it stick, right? Maybe…maybe not. 
The science behind New Year's resolutions is, at best, vague and unsubstantiated. One study cited by U.S. News states that about 80% of our resolutions fail. Regardless, we've all made New Year's resolutions that just haven't worked. So, what do you do?
We consulted our in-house fitness and wellness expert, Associate Director of Fitness & Wellness Operations, Devin Wicks for some advice. "The start of a new year is a great time to tackle challenging goals like exercising regularly because it's a time when our motivation to do something new is high," Wicks shared. "You can do hard things when you're highly motivated! Take advantage of that high motivation, but remember it usually doesn't last long."
Wicks suggested starting by setting exercise goals that focus on small, attainable steps and concentrate on developing the habit first. "Make your workout easy to do. And every time you successfully complete that small step or habit, celebrate! Tell yourself 'I'm awesome,' because you are!" he said. According to Wicks, not only are you healthier today, but you're also establishing with positive reinforcement a great foundation for long-term health—the habit of exercise.
The recipe for change is pretty simple at any time of the year: focus on the small steps and celebrate each and every success. You'll discover, maybe without realizing it, that you've created a lifetime habit of health!
Learn more about our on-demand and live fitness classes via Recreation & Wellbeing Online.