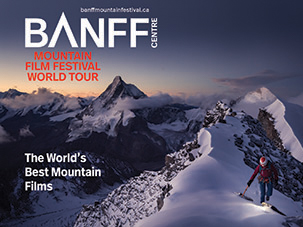 Ignite your passion for adventure, action and travel! Cal Adventures, in partnership with REI, is proud to host the Bay Area leg of the 2019 Banff Mountain Film Festival World Tour. Come be exhilarated with amazing big-screen stories when it comes to Wheeler Auditorium on the UC Berkeley campus February 23, with showtimes at 12:30 p.m. and 7 p.m.
From an exploration of remote landscapes and mountain cultures to adrenaline-fueled action sports, films in this year's World Tour are sure to captivate and amaze the explorer within you.
Tickets are $22 (online ticket fees apply) and all net proceeds will go towards the Cal Adventures Scholarship Program, which provides opportunities for Bay Area individuals to take part in our outdoor educational programs. Purchase your tickets today!