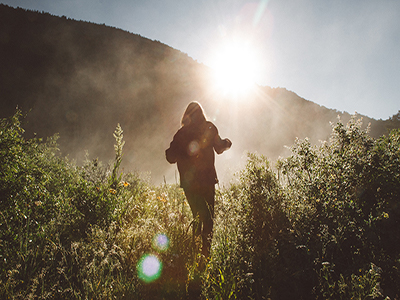 Sam Johnson, Director – Cal Adventures
With the changing season opportunities to be active outdoors are endless! The science is solid, spending time outdoors supports mental wellness. So get a double dose of self-help by exercising outside with a walk or hike.
For the easiest way to get outside, head out the front door for a walk around your neighborhood. Bring a mask, keep physically distanced and explore your neighborhood. Or perhaps you have been taking regular walks in your neighborhood, but the scenery has become stale. Here are five ideas to enliven the experience:
Map it. Get a paper map of your area and record your explorations: Use a highlighter to mark every street you've explored. Switch colors each week or month to track where you have been. Try to color as much of the map as possible. Place push pins on landmarks or other points of interest such as historical plaques, interesting street art, strange plants, "beware of dog" signs or anything else!
Pick a theme and take photos on that theme. Seek out new Sidewalk Stamps, shoes tossed over telephone wires, street art, anchor plates, paint spills (seriously, start looking – they're everywhere), animals in windows, etc. Give yourself a mission and use that to motivate getting outside. Think out successful Pokemon-Go is/was!
Look for a landmark you can see from your windows or standing outside your residence. A tall tree or building works great. Navigate there as directly as possible. Need a longer walk? Pick a new landmark. (If you're concerned about getting lost, be sure to bring a map or drop a pin in a map app of choice.)
Always read the plaque. Seek out informational plaques and consider the effort required to establish this marker of your community – a person or group of people had to compose the text (and images), manufacture the plaque itself, and install this physical object here in this location. Not only does the plaque's content reveal something (potentially) interesting about where you stand, it reveals something about the people of the past who chose to commission the plaque. Look around you, what will future plaques highlight, and who will place them?
Special (Physically Distanced) Delivery. If you have friends within walking distance, stop by to drop off a gift such as homemade bread, a handwritten letter, hand-drawn memes, or something else you share in common. Maintain physical distancing, wear a face covering, and don't socialize if they aren't in your pod. You'll feel good saying a brief hello, brightening their day, not to mention getting yourself outside in a physically active way.
Looking for a little more than a neighborhood walk?
We have put together a curated list of self-guided local adventures. Each adventure has some background information on the location, relevant links, a recommended hike, and a local food business to support.
Can't make it outside today?
UC Berkeley's Greater Good Science Center suggests Noticing Nature at home can be effective at strengthening feelings of awe, connectedness, and hope – powerful wellness tools during a pandemic.